LOADING...
Onsen Bath
The quiet and cozy onsen bath is made with Tago stone, unique for its resemblance to wood grain, designed to produce a relaxing brown wood-like atmosphere.
Forget the worries of city life and relax in the hot spring (onsen) water, 100% natural and piped in directly from the Hakuba Happo Onsen spring source.

The more adventurous among you might also wish to try the Japanese tradition of public bathing "naturally" here in our bath...in the nude!(Tattoo Friendly)
Hakuba Happo Onsen
The spring in Hakuba is also known as "the bath of the beauty (bijin)" because the water has some of the highest alkaline content in Japan, and is beneficial for the skin in many ways.
It has a satin feel which will make your skin feel soft and silky, and will also warm you to the core.
Please take a moment to slow down and enjoy this "healing time" to your heart's content.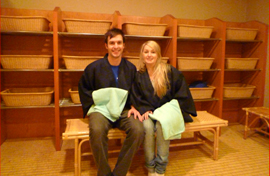 | | |
| --- | --- |
| Spring Content | Highly alkaline |
| Efficacy | Neuralgia, joint pain, stiff muscles, sensitivity to cold, skin diseases, etc. |
| Hours | 6:00–9:00, 15:00–23:00 (Swimwear is prohibited) |
| Amenities | Shampoo, rinse, body soap, bar soap, hair dryer, vending machine for disposable razors |
| Private bath reservations | Please contact the front desk.(private bath available only 11:00AM-15:00PM) |
| Bathing for visitors | Please make reservations by phone. |